Please note: I am not a home inspector. I am a home owner just like you. Being proactive instead of reactive to repairs can save you money. If you have concerns, a roofer will be able to look at your roof and attic and see if more ventilation is needed.
Deterred maintain in a home can cost you money. Many of items can easy be completed by the home owner. If you don't feel comfortable, a handyman can usually tackle most of these items.
Attic leaks and lack of insulation (10-12 inches recommended) will make your home less energy efficient which in turn will cost you money in energy bills. 
Insulation makes a big difference in energy efficiency. Before you add insulation, take the time to check and make a few repairs as needed:
Attic leaks (attic bypasses)
Attic bypasses are air leaks from your living space into your attic. These leaks occur when wires, pipe and air ducts go through your ceiling and into your attic. This issue will not only allow cold or hot air to leak into your attic but it will also cause condensation; which in term causes moisture issues. These moisture issues will cause mold and wood rot.
Before adding insulation make sure to seal any potential leaks.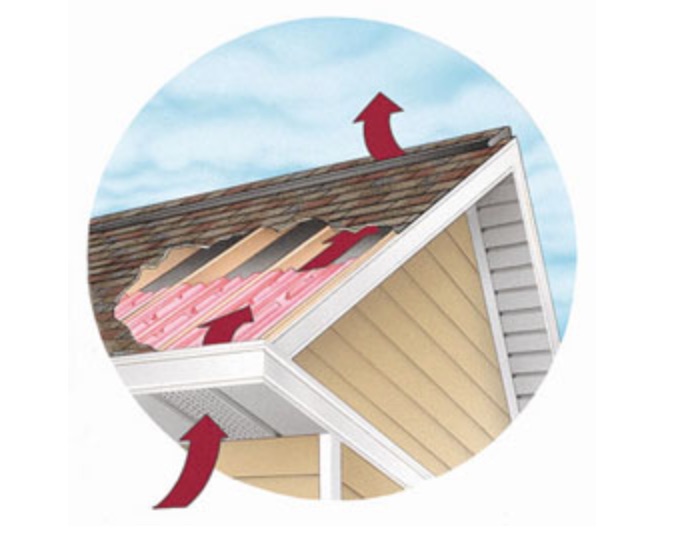 Your attic needs air flow. WHY?
Energy efficiency
Avoids moisture build up
Help maintain the life of your roof shingles and other roof components
This is critical for the home but also for the occupants. Anyone that has ever been in an attic knows how very hot it gets. This heats needs someone to escape to. If the heat is trapped in the attic, it will conduct heat into your home (not energy efficient) and will cause the home to deteriorate faster. You will experience moisture issues that will lead to mold, wood rot, rusty nails, among other things. Keep in mind that termites and carpenter ants love moisture and they thrive in environments like this.
There are two type of roof ventilation:
Passive ventilation: These include ridge vents (at the peak of your roof), soffit vents (in the roof eaves), turbine (vents that driven by wind and penetrate the roof) and gable vents (at the top of a gable). At a minimum you should have a ridge vent and soffit vents. Soffit vents will allow air to enter the attic and ridge vents will allow air to exit the attic (heat rises).
Active ventilation: These are systems that require power to operate. The most common are attic fans and whole-house fans. These fans are typically control by a thermostat. Attic fans are typically mounted to the roof and whole-house fans are mounted to the attic floor and they pull hot air from the living space and exhaust it to the outside through the attic space.
Your general maintenance should include looking for signs of problems. Our roofs are typically composition roof shingle covering wood decking. If the shingles are failing you will normally see signs of moisture on the wood decking. Here are a few things to look for:
Moisture damage or stains. Mold or water stains on wood, wet insulation and rusty nails. Is there a moisture smell?
Ducts must not be in contact with each or lay on top of the joists other or they will create condensation that is prone to mold and mildew issues.
The ducts must be elevated and supported from the rafters
A dish installed on top of a roof needs to be sealed at the point it's attached to prevent water damage.
Vents that have come loose and no longer vent outside
Dusty vents block air flow and create condensation and possible mold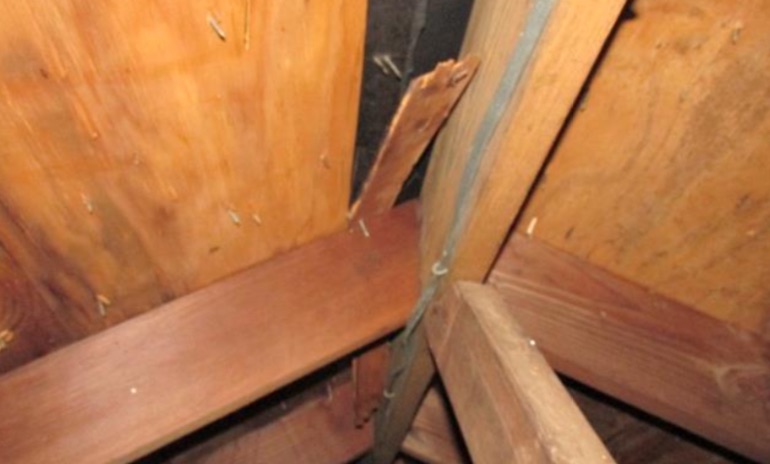 Tree limbs or vegetation that lay on the roof will allow moisture to accumulate and deteriorate the shingles.
One of the most common issues that come up during a home inspection is a kitchen, bathroom, laundry, and similar exhaust systems that vent directly into the attic instead of exhausting to the exterior. The moist hot air after a shower will vent into the attic and deposit moist hot air that will lead to wood rot and mold issues.
Debris. The vents can only work if they are not covered. Make sure that your insulation is not covering the vents, clean around the vents to make sure other debris and dust are blocking the holes. Over time, soffit vents may be painted and paint might block the holes as well. Make sure to replace or unclog the vents.
Source: Family Handyman Magazine
---
Sources and more information:
https://www.familyhandyman.com/attic/how-to-seal-attic-air-leaks/
https://www.nachi.org/blog/2009/10/07/attic-ventilation/
https://www.energystar.gov/ia/partners/manuf_res/salestraining_res/HS_diy_guide.pdf
---