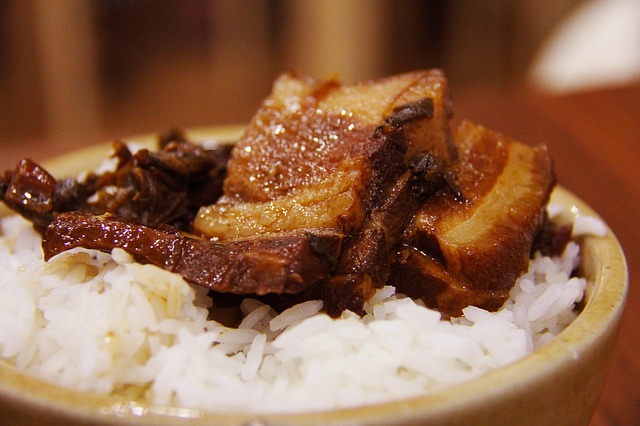 INGREDIENTS
1.5 lbs pork belly, cut in 1 in pieces
1/2 cup Chinese rice wine
4 tbsp soy sauce
1 tsp grated ginger
2 tbsp of brown sugar
1 tbsp fish sauce
1 tsp sesame oil
2 cloves garlic (whole)
2 star anise
1 bunch Green onions (sliced)
Serve with steamed white rice
DIRECTIONS
Brown the pork belly pieces in small batches (do not crowd the pan) until brown. I used an electric pressure cooker, the sauté function. Once all pieces have been browned add them back to the pot and toss in all the rest of the ingredients except the green onions. Add 2/3 cup water. Cover the pressure cooker and set for stew setting.
Once the setting is complete, uncover the pressure cooker and turn the sauté function back on. Cook until the sauce reduces and becomes as thick has honey. Stir several time so that the pork is even coated.
VARIATIONS
I make a cuban style pork belly. Pork is cut into 1in pieces and browned as stated above. Add the pork back into the pan with 1/2 cup orange juice, the juice of 1 lime, 5 cloves of garlic, 3 packages of saloon Goya, 1/4 tsp dried oregano, 1 small sliced onion, 1 tsp salt, 1 tsp black pepper. Once the pork is cooked in the pressure cooker you will once again open the pot and set it to sauté. Cook until the pork is dark brown, stir often.