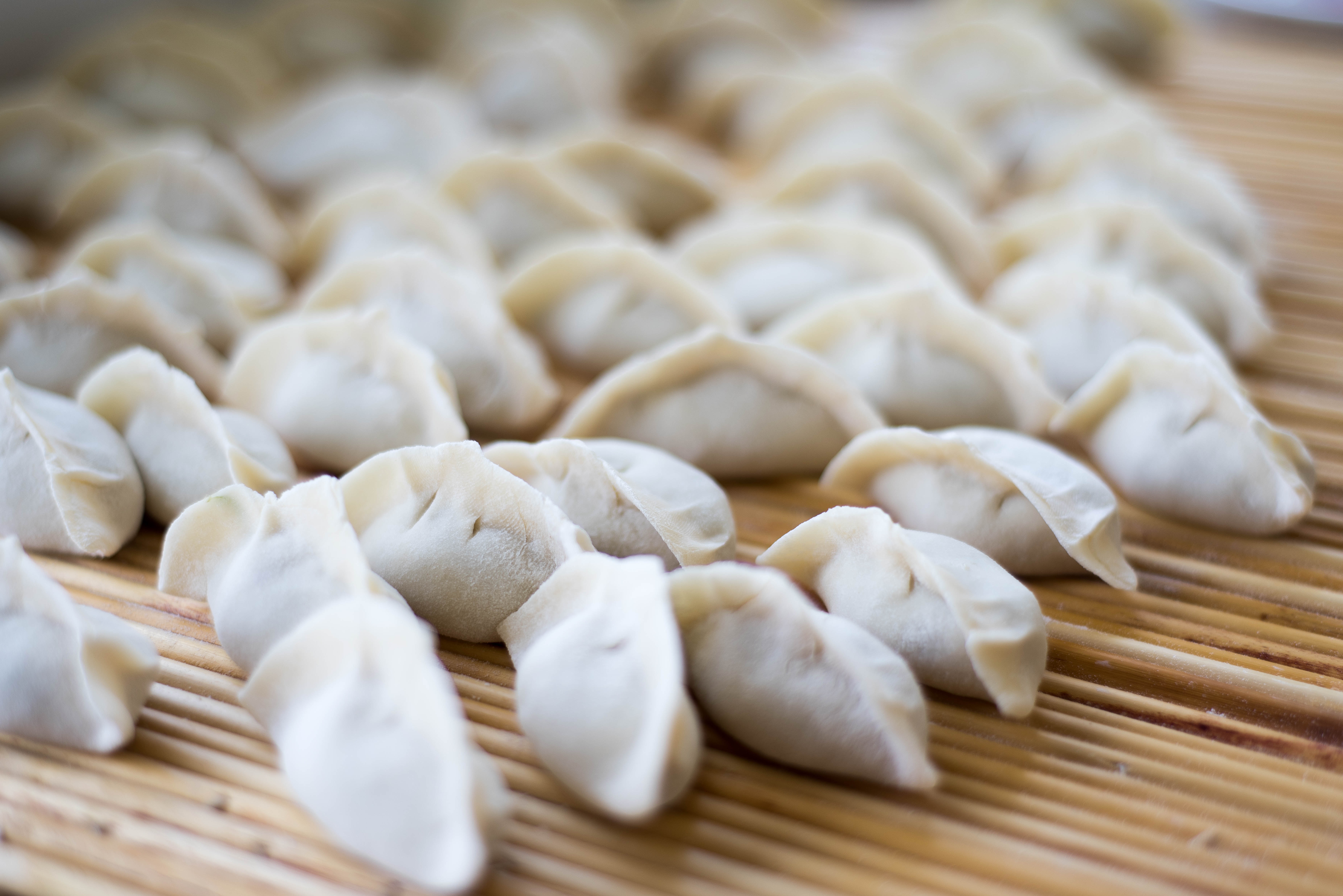 INGREDIENTS
1 pound well-ground, fatty pork
1 pound Napa cabbage, rough slices
1 tablespoon fresh grated ginger
2 tablespoons water
2 scallions, sliced
4 tablespoons soy sauce
1 tablespoon Chinese cooking wine or sherry
2 teaspoons sesame oil
1 teaspoon fine salt
Pinch of white pepper
1 package frozen or fresh dumpling wrappers
small bowl of water
DIRECTIONS
Pork filling:
Bring a large pot of water to boil over high heat. Add the cabbage; blanch until just wilted. Using a slotted spoon, remove cabbage to strainer set over a large bowl. Press down on cabbage to squeeze out all liquid. Transfer to cutting board; roughly chop. Combine onions and pork, add ginger, Add the soy sauce, cooking wine, sesame oil, salt, and pepper to the meat mixture. Stir in chopped cabbage until completely incorporated.
Dumplings:
Using a spoon, place one heaping tablespoon of dumpling filling in the center of the dumpling wrapper. Using your fingertip, wet the outer edge of the dumpling wrapper with water. Fold up the sides of the dumpling into a half-moon shape. Pinch the edges of the dough until completely sealed. Do not overfill the dumplings. If any filling comes out, remove some and seal the dumpling completely.
Cook:
Boiled dumplings: To cook the dumplings, gently lower them into a medium pot of boiling water and boil for approximately three to five minutes. They are done when the dumpling skins are translucent and the dumplings have been floating for about three minutes. Remove from pot carefully with a slotted spoon.
Pan fried dumpling: Add 2 tbsp o oil in a pan, add on layer of dumplings, fold side up. Add 1/2 cup of water and cover. Steam the dumplings for about 4 mins. Dumpling wrapper with be translucent. Uncover and continue cooking until all the water evaporates and the dumplings are golden brown on the bottom side.
Fried: Heat oil and fry each dumpling until golden brown.
Serve hot with your favorite dumpling sauce
VARIATION AND TIPS
You can freeze dumplings raw for up to 2 month.
Bacon Cheese Burger dumplings: for filling combine  2 cups medium shredded sharp Cheddar, 1/3 pound thin-cut cooked and chopped bacon, 1/2 tablespoon kosher salt, 1/2 tablespoon freshly ground black pepper, 1/2 large red onion, small diced, 8 ounces 80/20 ground beef. Serve with ketchup and mustard
Shrimp and onion dumplings: for filling combine: 1 lb chopped deveined and cleaned shrimp,  3 sliced green onions, 1/4 tsp grated ginger, 1 clove grated garlic, ½ teaspoon salt, ½ teaspoon ground black pepper, 2 teaspoons sesame oil.
Buffalo Chicken dumplings: for filling combine 1 lb ground chicken, 1 cup of buffalo sauce, 1 cup grated colby cheese, 1/2 cup cream cheese, 1/4 cup blue cheese.
Add 1/2 cup of chopped kimchi into the recipe above for pork and kimchi dumpling
Simple dipping sauce: 4 tbsp Soy sauce, 1/8 tsp grated ginger, 1 tsp Sriracha sauce, 1 tsp sesame oil. Combine and serve with dumplings
You can fill these with anything! Share your filling ideas 🙂