Welcome to our amazing city!
Houston is allso known as "Space City," "Bayou City,"  and "H Town", among others. I call it Home and I love my city.
Houston's stable job market, diverse economy and affordable neighborhoods, make Houston a popular choice for most. Forbes has labeled us as "Best Places for Business and Careers."
If you are thinking about moving to Houston, let us help you through the transaction. Whether you are buying or renting, we can help. 
Fun Facts about Houston
We are the 4th most populous city in the US. In 2017. Houston is expected to become the 3rd most populous city in the US by 2020s.
The Houston-Galveston-Brazoria Consolidated Metropolitan Statistical Area (Houston CMSA) consists of 9 counties: Brazoria, Chambers, Fort Bend, Galveston, Harris, Liberty, Montgomery, Austin and Waller. Within these nine counties are 124 incorporated cities.
The nine-county Houston MSA had a population of 6,892,427 residents as of July 1, 2017, according to estimates by the U.S. Census Bureau.
Harris County had a population of 4,652,980 residents as of July 1, 2017, according to estimates by the U.S. Census Bureau.
The City of Houston had a population of 2,312,717 residents as of July 1, 2017, according to estimates by the U.S. Census Bureau.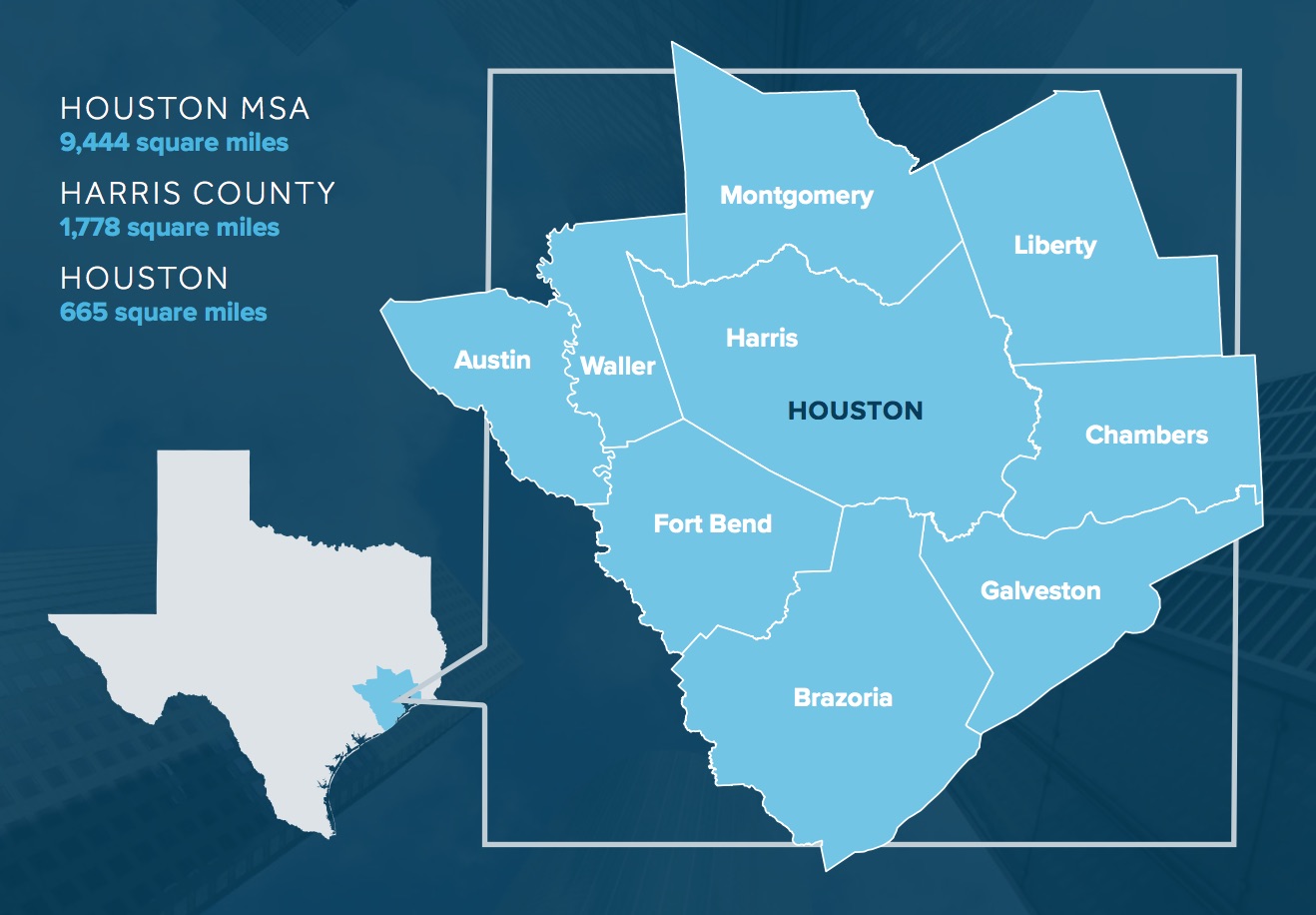 We are HUGE! Get ready to drive. The Houston-Woodlands-Sugar Land MSA covers 10,062 square miles. Check out Texas Monthly comparison. They only took into account the city up to Beltway 8. We now have another circle around the city.
As a result of our diversity we have AMAZING food. Do you want Malaysian, Philippine, Ethiopian, Mexico, Tex Mex, Cajun, Japonese, French, Bosnian, Korean, BBQ, Vietnamese or anything else? We got it and it's great! There are so many restaurants that only the best make it here. For the record: Tex Mex food is not Mexican food. Queso and chips are always a must and the restaurant will be highly criticized by this appetizer alone.
Yelp listed Houston as having more than 75 national categories of cuisine, and listed over 600 vegan friendly restaurants, more than 150 farm-to-table restaurants and more than 700  food trucks in Houston.
Follow me on Yelp for suggestions. I love to try new places and I'm not afraid to eat at some hole in the wall. These are usually the best places. YUM
Check out some amazing places:
https://houston.eater.com/maps/best-houston-restaurants-38-essential
https://spoonuniversity.com/place/houston-foods-to-eat-before-you-die
https://www.foodnetwork.com/restaurants/photos/best-houston-restaurants
https://www.buzzfeed.com/marietelling/best-cheap-eats-houston
We have the largest medical center in the country. The Texas Medical Center sees an annual average of 16,000 International patient visits.
21 renowned hospitals, including M.D. Anderson Cancer Center, the No. 1 cancer hospital in the country. 8 academic and research institutions, 6 nursing programs, 3 public health organizations, 3 medical schools, 2 universities, 2 pharmacy schools and dental school.
Our two international airports offer more than 70 non-stop flights to international destinations.
The Houston Airport System is comprised of three different airport facilities: George Bush Intercontinental Airport (IAH), William P. Hobby Airport (HOU) and Ellington Airport (EFD).
Ellington Field supports the operations of the United States Military, NASA and a variety of general aviation tenants
Houston rates first in total park acreage among U.S. cities. We are green. This is one of the things that most non-Houstons tell me when they arrive.
Brazoria County is known as a bird watchers paradise, boasting approximately 400 observable species of birds.
Memorial Park is one of the largest urban parks in the united states. A favorite among Houston's joggers, Memorial Park also features tennis courts, playing fields, a fitness center, swimming pool and six miles of mountain and recreational bike trails along the bayous.
Do you like your car? Houstonians love their cars and most will drive to and from work. Approximately 80% of us drive alone to work. You will get use to it. On average people spend an hour commuting in Houston. Our traffic is horrendous and the distances are long. Download an audio book and be productive while sitting in your car.
The Katy Freeway is the widest in the world.With 26 lanes in certain parts, the Katy Freeway, or Interstate 10, is the widest highway in the world. It serves more than 219,000 vehicles daily in Texas.
Corridors: Houston's major thoroughfares include I-610 Loop, I-10, I-45, SH 288, SH 6, SH 225, SH 146, US 59/I-69, US 290, US 90, Beltway 8, Fort Bend Tollway, Grand Parkway 99, Hardy Tollway and the Westpark Tollway
We have some public transportation but it doesn't go out to the suburbs. We have some park and ride options that make commuting a little easier.
Discovery Green is a 4.77-hectare (11.78-acre) public urban park in Downtown Houston, bounded by La Branch Street to the west, McKinney Street to the north, Avenida de las Americas to the east, and Lamar Street to the south. Discovery Green features a lake, bandstands and venues for public performances, two dog runs, a playground, and multiple recreational lawns.
Buffalo Bayou, the slow moving principal river of Houston, stretches 53 miles and the has several large tributaries including White Oak Bayou, Greens Bayou and Brays Bayou.
Houston has four major bayous passing through the city. Buffalo Bayou runs through downtown and the Houston Ship Channel, and has three tributaries. White Oak Bayou runs through the Houston Heights community northwest of Downtown and then towards Downtown; Brays Bayou, runs along the Texas Medical Center and Sims Bayou, runs through the south of Houston and downtown Houston.
Houston is one of only a few U.S. cities with four disciplines of the performing arts: ballet, opera, symphony and theater.
Houston has more than 500 institutions devoted to the performing and visual arts, science and history in the Houston area.
The art scene is strong and diverse. One of the largest museum district in the country Offering at least 20 diverse museum.
Houston is home to Johnson Space Center, the training base and home for our nation's astronauts and the site of Mission Control. The Space Center Houston, the official visitor center of the Lyndon B. Johnson Space Center, which is NASA's center for spaceflight activities.

Our weather is very strange. You can experience all four seasons in one day. True story! Houston is the nations third most humid city, only New Orleans (first) and Jacksonville (second) rank higher.
Houston averages only 18.0 days per year with temperatures of 32°F or less and 99.6 days with high temperatures of 90°F or more. Temperatures rarely reach 100°F.
The highest temperature ever recorded in Houston was 109 degrees.
Houston's growing season averages 300 days. The normal frost-free period extends from Feb. 14 to Dec. 11.
A statistically average year contains 90.3 "clear" days, concentrated in October and November; 114.5 "partly cloudy" days, typical of June through September; and 160.3 "cloudy" days, common in December through May.
Houston's average annual rainfall is just over 49 inches. As a comparison, Seattle receives just over 37 inches
In 1980, Houston was described as the 'most air-conditioned place on earth' because people use air conditioning in every building and vehicle to cope with the strong humidity and heat.
Every night 250,000 Mexican bats come out from under Waugh Drive Bridge to hunt for mosquitos. Thank goodness for them because our mosquitos can pick up small children!
There is a burping bubble—that's right—in the Buffalo Bayou, underneath the Preston St. Bridge. Go ahead and press the red button.
The Orange Show Monument is a folk-art environment located in Houston's East End. Each piece of the Orange Show Monument was hand-placed and hand-painted by Jefferson Davis McKissack.
Smither Park is a great place to bring family, friends and loved ones for picnics, gatherings, and relaxation. Smither Park is a work of art in progress, providing a unique opportunity to see artists in action. It's free and you can spend hours looking at the mosaics.
The Buffalo Bayou Park Cistern is a former drinking water reservoir built in 1926 for the City of Houston. Learn about the architecture of this unique space and the history of Houston's water system. The coolest thing about it is the 17 second echo!
Did you ever wonder what the building with the golden sphere was? This hard to miss building has been abandoned for years. This building has an interesting story. The palace was the life's work of Kwai Fun Wong, the leader of a Chinese Taoist organization who envisioned a grand Taoist complex of multiple buildings. The project was abandoned after the creator was deported before it was completed.
Houston has an underground pedestrian tunnel system. The tunnel is 20 feet below the ground and runs for seven miles, linking 95 city blocks. The tunnel originally connected two downtown movie theaters but now connects much more, including major city buildings, restaurants and retails stores – almost like a mini mall!
The Marine Corps Mounted Color Guard marches down the road during one of their many parade events across the country. Gunnery Sgt. Mike Bate (second from left) has lead the Marines of the MCG in dozens of parades, rodeos and events.
We love our sports. Houston has sports teams for every major professional league except the National Hockey League: baseball, basketball, Football, Women's Soccer or even the Grand Prix, the city is a forerunner in all of them.
The Houston Comets are the only WNBA team to take home four back-to-back WNBA championships.
Astros at Orioles 7/21/17
The Astrodome which opened in 1965 as the world's first indoor domed sports stadium is also called the 'Eighth Wonder of the World'.
Queen Bey, a.k.a. Beyoncé Knowles, got off to a superstar start in her hometown of Houston. At age 7, she beat out competitors twice her age in a talent show.
The Long Point-Eureka Heights fault system runs from the southwest side of Harris County to the northwest side, and features more than 300 surface faults, according to the University of Houston. While these faults are not the kind to cause massive earthquakes, they can still move up to an inch a year.
Gerald D. Hines Waterwall Park is located near the Galleria. It's incredibly peaceful and a great spot for pictures. It's a 64-foot semicircular fountain that re-circulates 11,000 gallons of water per minute. The park is full of large oak trees and it's a great place for a picnic. At night the fountain is lit up in beautiful colors.
It's Home to the First Traditional Hindu Mandir of Its Kind in North America. The Shri Swaminarayan Mandir in Houston is the first traditional Hindu Mandir of its kind in the United States. The pieces were shipped from India to the U.S. to be reassembled carefully in Stafford, Texas (outside of Houston).
The Houston Galleria, or just The Galleria, opened in 1970 and is the largest mall in Texas, with over 375 stores filling the four floors. It's the 9th largest in the U.S.
Just outside of Houston you can find the largest Renaissance Fair in the nation.
We are within a short distance from Kemah Boardwalk and Galveston. Spend the day near the ocean. Eat some fresh seafood and just enjoy the breeze from the ocean.
First major city to elect an openly gay mayor (Annise Parker).
The Houston Pride Festival® and Houston Pride Parade® are at the center of the Celebration with an attendance of over 700,000 people every year from all over the world.