Did you know that October is a great time to plant trees, shrubs, rose bushes and perennials. Planting now will help the plant survive come spring and summer. 
When deciding what to plant think about our pollinators. I love the fact that my yard is full or butterflies, hummingbirds, dragon flies, hummingbird moths and many types of bees. It's beautiful to see them flying from one plant to another. 
We have 600 species of native bees in Texas! How many have you seen flying around? I love to see the huge bumble bees on my Vitex tree. Don't forget about the butterflies There are about 100 different species that visit our Houston gardens and surrounding areas.  Learn more.
It's always best to choose native plants. They do better in our climate and tend to be more drought resistant. You can conserve water and still have a beautiful garden! Most of the times it's best to go to a local nursery vs a big box store like Home Depot. Most of the larger stores will carry the same plants nationwide. A plant that does well up north might not do well in our weather. 
Check out some of our local nurseries. These are some of my favorites:
Do you have a favorite that isn't listed? Let me know. I'd love to check it out. 
Native Plants
Ideally these are plants that are low maintenance, are attractive and functional for our area and climate. Here are some of my favorites:
I love Lantana. It comes in a variety of colors and pollinators love it. My lantana is always covered in butterflies.
This plant is almost impossible to kill. During the winter months I cut it back and come spring it pops back up. This is a very low maintenance attractive plant that loves our hot summers; it thrives in full sun.
Salvia is another plant that does really well and the pollinators love it. Salvia comes is many varieties and colors. It's drought tolerant and very low maintenance. Plant it and forget it.
My Vitex tree is always covered in huge black and yellow bumble bees. I've heard them referred to as flying pandas. They are harmless and so cute!
I'm constantly cutting this plant back because it loves our climate and grows fast. Vitex is heat and drought resistant.
You can trim this like a small tree or let is grow like a shrub.
Hummingbird or fire bush is beautiful and the pollinators love it, especially hummingbirds. This does well in full sun but doesn't like freezes. It might die down if the weather gets too cold but normally will come back come spring.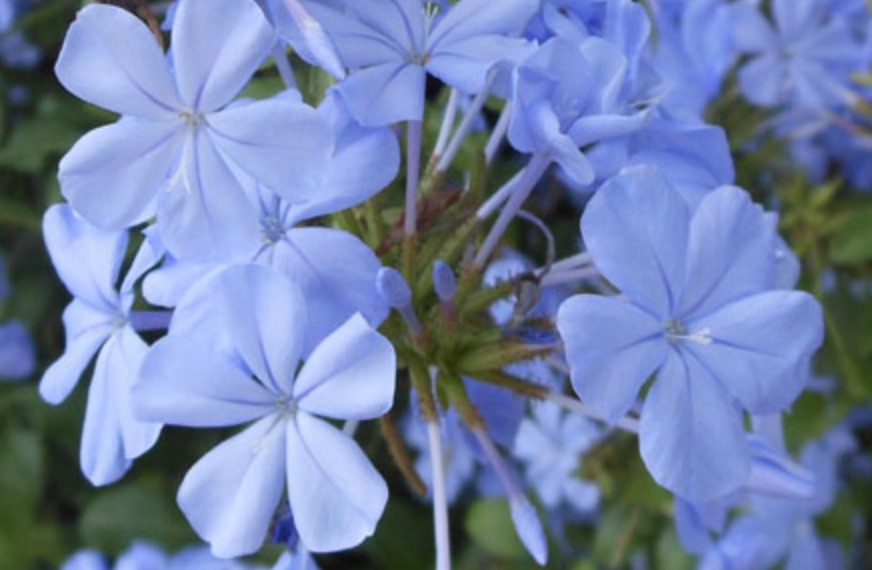 I love Blue Plumbago; not only is it beautiful but it's no easy. My dogs haven't been able to kill this one!
It grows like a low lying shrub and it likes both sun and shade. It's very drought resistant once it's established.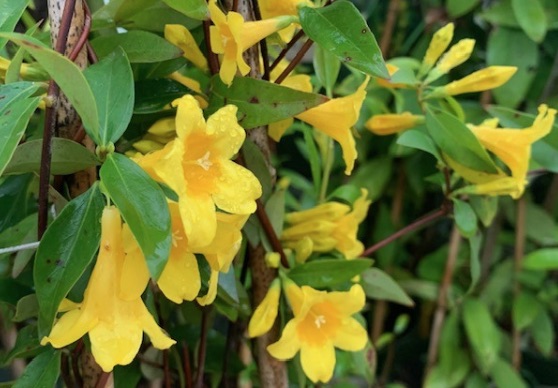 Esperanza, Yellow Bells is gorgeous and pollinators love it, especially the hummingbirds. You can trim it to look like a small tree or let it grow wild like a large bush. The flowers are beautiful.
Very low maintenance and it loves full sun and it's drought resistant.
Check out Buchanan's list of native plants, shrubs, grasses and vines:
Home Garden
Do you have a home garden? Its time to plant fall veggies and herbs – Broccoli, cauliflower, Brussels sprouts , lettuce, cabbage, peas, dill, cilantro, parsley, Swiss chard, mustard greens, etc. I've had great success with Collard Greens! Remember that most of these freeze very well.