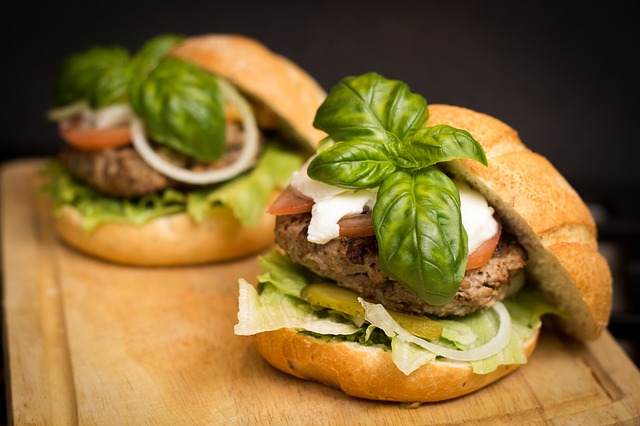 Makes 4 patties
INGREDIENTS
1 lb beef or turkey
1 egg
1/2 cup of Italian style bread crumbs
1 tsp garlic salt
2 tbsp tomato pesto (or sun-dried tomato pesto)
1 cup grated cheese (I've used parmesan, provolone, mozzarella or a combination of these)
1/2 tsp black pepper
1 tbsp olive oil
4 buns
1 tomato sliced
1 small red onion sliced
Green leaf lettuce or arugula
Pesto or basil leaves (optional)
4 cheese slices – Mozzarella or provolone
DIRECTIONS
Mix ground meat with egg, bread crumbs, garlic salt, tomato pesto, grated cheese and black pepper. Mix well and found 4 patties. Heat a sauce pan with olive oil, place patties in pan and cook for 5 minutes on each side or until done to taste. Add sliced cheese and cook until melted. Toast buns, add condiments as desired. Enjoy!
VARIATIONS
This same mixture can be turned into a meatloaf. Mix the same ingredients and top with a 1 cup of ketchup or tomato sauce. Place in greased loaf pan. Cook for 30 mins or until done. Serve with parmesan potatoes!
This same mixture makes amazing meatballs. Mix the same ingredients and form 16 small meatballs. Brown the meat balls in olive oil and add your favorite spaghetti sauce.