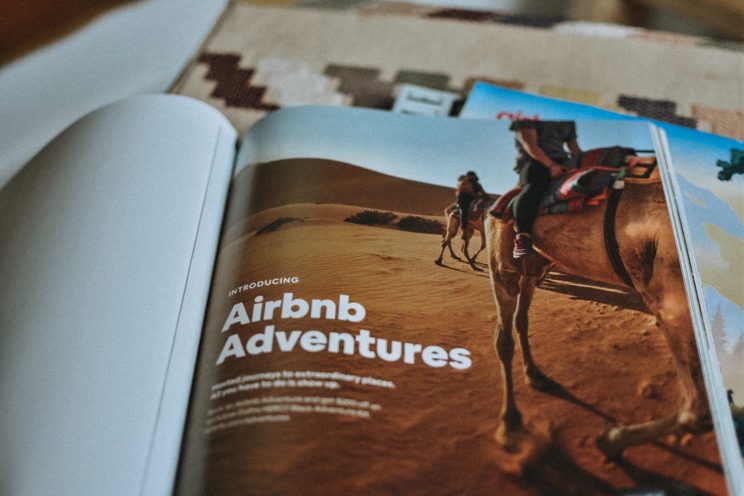 When people hear Airbnb, HomeAway or VRBO, they think vacation. These services connect homeowners who want to rent out a room or their entire house or apartment with travelers who want an alternative to hotel chains.
These short term rentals are used for many other reasons. They are temporary homes between selling and buying a home. They are temporary homes for business trips. They are used as temporary housing for college students.
These types of rentals can also be found on Craig's list, facebook market page, other social media, etc.
In the last few years there has been a rise in cases of fraud.
Let review some of the most common scams:
Fake Rental – One scheme known as take the money and run occurs when a fraudster creates a fake vacation rental listing or website to get money from unaware victims. The pictures are usually stollen from other sites and the property they are advertising doesn't usually exist. The fraudster will typically ask you to pay the first and last day or sometimes the stay in full. Once they receive the funds they tend to disappear. Usually the victim will not find out they were scammed until they show up at the property (or lack of property).
Bait and switch – Another scam is the bait and switch. In this scam, the fraudster shows unavailable properties to lure the would-be renter to a less-desirable property. This is sometimes done in a sneaky way. You may not even know you've been scammed.

Imagine that the short-term rental owner calls you the day of check-in. You are informed that the previous guest had flushed something down the toilet, which had left the unit flooded with water. He offers you another unit in the mean time and they will let you know when the flooded unit is available (which is probably never). This other unit is usually not the same quality.

Price jacking – You get to the property and it's the property you expected but you are asked to pay more at the last minute. They may push you to pay by turning on the home's WIFI, turn off the lights, etc.
In 2019, the median loss of victims who reported rental scams to Scam Tracker was $996. The Apartment List survey found that the median loss was $400, but one in three victims lost more than $1,000.
Let's share the winnings: This is typically a scam targeting the short term rental owner. They will ask the owner to charge a certain amount for a room they never plan on using. In exchange they want the owner to give them 1/2 of the amount charged. If you receive a check that's for more than the specified amount, return it. Do not deposit it. 
Cancelled Booking – The victim will receive an email stating that the home or home is not longer available due to renovations or repairs. You are informed that you will get a refund (which never happens).
No showings but give me more info – If you ask to see the property and they either tell you no or they book a tour but end up canceling. At times they will ask you to fill out an application with tons of personal info before they allow you to see the property. They might asked to run a credit check before they show you the property—they might say the property is so popular that they are only entertaining serious inquiries or a similar excuse. Red Flag.
Home for Rent – Longer term rentals also experience fraud. Fraudsters will use homes that are currently up for sale (and vacant) and they will list them for rent; normally using the same pictures. Sometimes they even gain access to the home and have copies of the keys. They will collect the security deposit and 1st rent, have them sign a lease, and give the victims the keys. It all looks legit until someone shows up to tour the home and realized that there is someone already living in it!
Rent-to-Own – I know this is appealing to some renters but the fact is that there is a lot of fraud in this area. This can be legally done by signing a rental agreement with an option to purchase.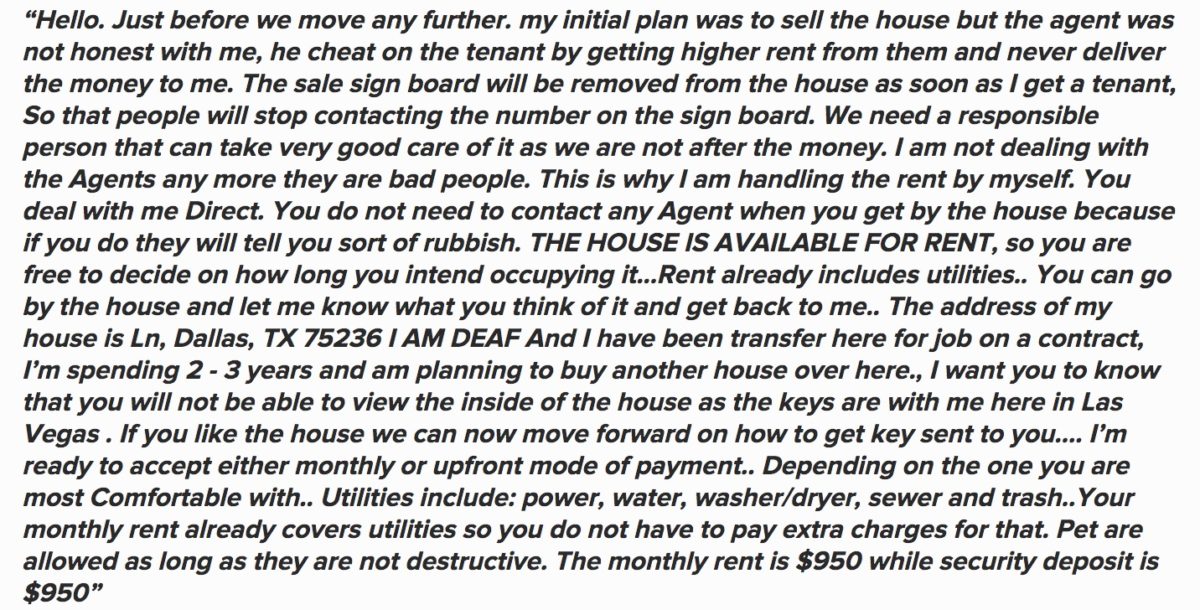 You owe me money! – On occasions the fraudster (property owner) will contact you after the fact and request that you pay a certain amount for repairs. Take photos and video of a property when they arrive and when they leave.
Room for Rent/fraudster tenant – There are fraudsters that are renting rooms in vacant homes or homes that they might have rented legitimately but have stop making payments on their rent. Normally they will try to rent every room in the home within a short period by offering an amazing rate. They will take a deposit and the month's rent in advance. Shortly after they disappear.
No Credit Check – If someone is willing to rent you a home or a room for a period of time, wouldn't they be concerned about your credit or criminal history? Red flag.
You can pay the rest later – If the property owner tells you that you can pay a portion of your security deposit now and the rest later, be careful. This is a way to establish trust and they may only be seeking to steal the first part of the payment.
How can you protect yourself?
Reverse image search – If you search the images and you find that they are stock pictures or they belong to another listing, this should be a BIG red flag.
Contact number – Search for the property owner's telephone number. If it turns out to be a google number, this might be an issue. Not to say that all google numbers belong to fraudsters but I'd be on high alert.
Map the address – Map the address and make sure there is a property located at that address. Does the home match those in the picture?
Read reviews – A lot of times just reading the reviews will cause red flags. Do the good reviews sound strange? Do they use the same wording you found in the ad?
Cancellation Alerts – Are there multiple cancellation alerts on a property? Red Flag.
Price too good to be true? – It probably is. Red Flag. A guest offering to pay extra for a week because they love your place? Scam! A single traveler renting your five-bedroom house for themselves? Scam! Trust your instinct.
Payments – Is the host asking you to take their business off the official site? Red flag. All communications and payments should be handled through the site. If they ask for a money order or wire, backoff and report them.
Website – before making a payment look at the website address. Sometimes you are sent a link to an "airbnb" like site but the web address is not correct.
airbnb.com vs. airbnb-bookings.com
Owner Search – Search for the property's owner. Make sure that the person that you are dealing with is the owner.  It will not hurt to ask for documentation to prove the identity of the person you are dealing with. If you find the property is owned by a company, call the company and see what you can find out.
Few or no reviews – Red Flag
Lease – You are asked to sign a lease before you are able to see the place/room.
More info/Sources: