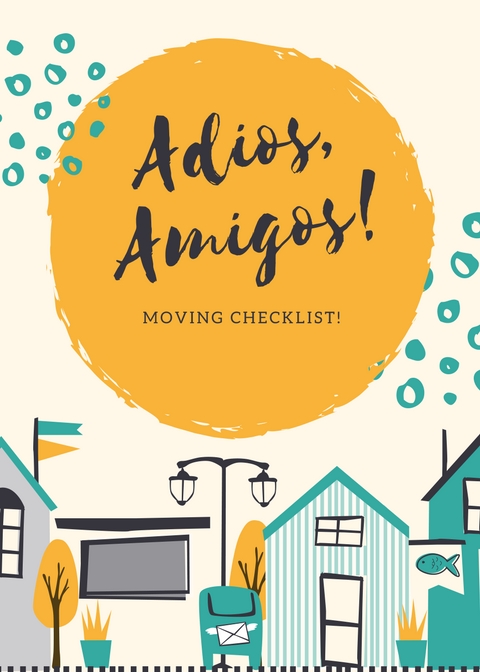 It's Finally Time to Move!
Below you will find a moving checklist
2 months before
Start sorting your belongings into "what to donate" and "what to keep" piles. Start getting rid of items you don't plan on taking to your new home.

Sell/Donate to your friends
Hold a garage sale
Sell items online (Craigslist, Facebook, eBay etc.)
Donate to charities (get a tax receipt)

Avoid the last-minute pile of trash on the curb—start throwing away anything that can't be donated, sold or gifted.
Make a room-by-room inventory of your home. Note and photograph any existing damage to your furniture, so you know who's responsible for what on delivery day.
Research your moving options, and request on-site quotes from at least three moving companies**
Make a "moving" binder, which will include all your important contact info, estimates, receipt and other important documents.
If school districts are being switched, make sure you make the appropriate arrangements to transfer the records to the new school.
6 weeks before
Purchase bubble wrap, boxes, packing tape, and other necessary supplies.
Start using up existing stock of cleaning supplies, frozen foods, and any other items that cannot be moved, particularly on a long-distance relocation.
1 month before
Pack occasionally used items, number and label each box with the intended room and its contents.
Put important files and jewelry in a box, which you will move yourself personally.
Set aside a box with all the items required on moving day, such as small pieces needed for re-assembling furniture, tools, etc.
Request a copy of your family's dental and health records  from your current provider(s).
Collect things you have loaned out and return borrowed items.
2 weeks before
Choose your preferred moving company and confirm the arrangements.
If you are changing banks, do not forget to close out safety deposits.
1 week before
Switch to another pharmacy and/or refill prescriptions.
Finish your general packing a few days before moving day.
Pack suitcases with clothes enough to wear for a number of days.
Let your credit card companies, employer, banks, insurers, and utility companies know about your move.
Transfer or start and stop utility service at your new and old addresses for the following:

Electric
Water
Gas
Telephone
Cell phone
Cable/Satellite and internet
Sewer
Trash collection

If you are using a moving company remember to discard aerosols, flammables, ammunition or bottled gas. Be sure to check with your moving company for other prohibited items
Make arrangements to rent a storage unit, if necessary
Schedule/hire a cleaning company for the week of your move.
A few days before
Empty and clean your refrigerator.
Once again, call the moving company and reconfirm the arrangements.
Keep cash in hand if you plan to give the movers tips.
If you're switching banks, remember to clean out your safety deposit box.
Fill out the change of address form either at the post office or online at usps.gov.
Pack a bag of essentials for moving day and your first night, including a change of clothes, toiletries, napkins and towels, soap, shower curtains, important documents and electronic devices.
Moving day
Remove the beddings
Leave a forwarding address and other contact information for the new residents; after all, they could have a few questions.
Walk through your home one last time, before the moving truck heads out, to ensure nothing has been missed.
**It's important to research movers and ask the right questions before you decide in a company.
Questions to Ask:
Insurance? – Basic insurance for most companies is 60 cents a pound. You can buy your own insurance as well.
Binding Quotes? – Is this quote binding? Is it a "not to exceed" quote?
Transfers? – Will my goods be on the same truck for the whole trip or will it be transferred to another truck at some point?
Extra Charges? – Does the quote include awkwardly sized objects, parking, storage, fuel, etc.?
What payment forms/terms do you accept? – Be leery of cash-only companies.
Mover or Broker? – Are you talking to the mover or to a broker working for moving companies?
Who's Responsible? – If anything is damaged, who is accountable for the damage?
Many moving company tend to have bad reviews. The most common complaints include hefty price increases over original estimates, missing items, and goods held hostage until additional payment was made.
Here are the most common moving scams:
1. Low Estimate, Inflated Price
The most common scam is the bait-and-switch tactic. Movers will offer a low-ball estimate then on moving day you are told the load is larger than expected and they will need to increase the price. Some movers will keep your items hostage until additional funds are paid.
Ask what the quote covers. Movers can inflate the price by charging you extra for packing supplies or moving blankets.
Research the company and ask for referrals. Ask the mover to come by and review the items to be moved so there are no misunderstandings. Do not rely on over the phone quotes.
2. Lost or damaged items
During a move, valuables like jewelry and antiques might "disappear." Its best for you to pack your valuable items in a box you can personally move.
Items also could get damaged. You can acquire insurance to cover damages or loss.
3. Hourly Estimates
When getting hourly quotes, ask in advance how many men will be present and how many hours are expected. You might get one company that will send out 4 movers and it might take 2 hours; another company might send 2 movers and it can take 7 hours.
Remember if it sounds too good to be true, it probably is.
4. Large Deposit
A mover may ask for a small amount of money in advance but if they request a large deposit, be concerned. The best company will require payment once your items have been delivered.
If you have anything else to add let me know :)